When the "First Comes Love" project began in March of 2009, Proposition 8 had just outlawed same-sex marriages in California and the Defense of Marriage Act still barred the federal government from recognizing gay and lesbian marriages. Four years later, that section of DOMA has been declared unconstitutional and Proposition 8 has been defeated — for good.
Still, same-sex marriages are not recognized in 32 states. A deep misunderstanding of LGBT relationships remains. So the "First Comes Love" project captures the stories of real couples who want to help educate those who aren't LGBT, while celebrating those of us who are.
The goal of "First Comes Love" is to provide a glimpse into the "everyday" lives of couples who have been in their relationships for 10, 20, 30, 40, and even 50 years. B. Proud photographed the couples and presents their portraits in a straightforward black and white.
The "First Comes Love" exhibition opens Friday at the William Way LGBT Community Center in Philadelphia. For more information, visit WayGay.org. See more photos from the gallery here, and for more of B. Proud's work, click here.
See photos and stories provided by the project on the following pages: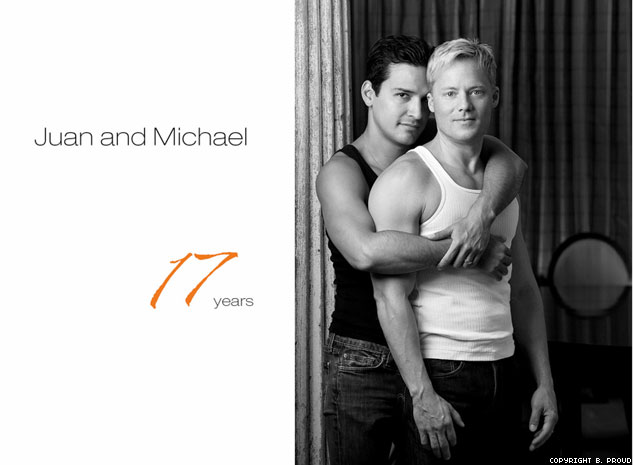 "I'd say that we're just like everybody," Juan says. "We're just like our neighbors across the street who have a set of dogs, and they walk to the park everyday just like we do. You know, everybody has their ups and downs. Everybody has a home, responsibility, work, job, life. I guess we just do it together. I don't think we are any different than anybody else. "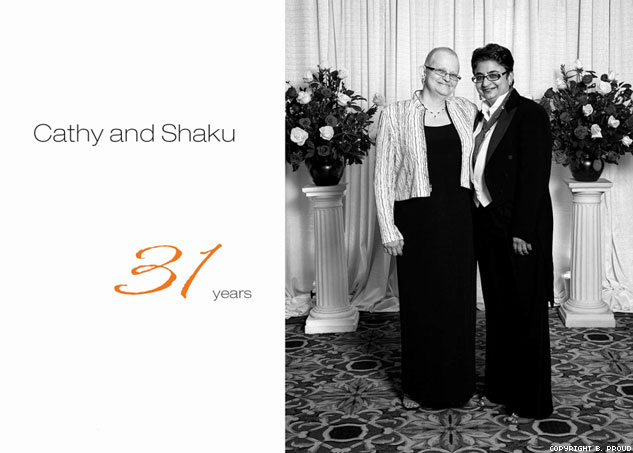 Read More »